About Us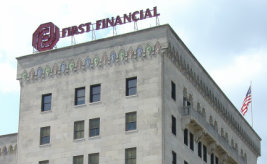 Our Mission Statement
Since 1934, First Financial Bank has been committed to upholding our community-oriented mission:
"First Financial Bank will be the leading provider of financial services in our markets; dedicated to growth by consistently exceeding the expectations of our customers while treating our employees fairly and respectfully."
Our Strength
Our commitment to customer service, our financial strength, and our banking professionals make choosing First Financial Bank a sound business decision. As a locally-owned, locally-managed bank, we are dedicated to providing the very best financial services so that we may stay ahead of the competition.
Industry-Leading Products and Services That Set Us Apart From the Competition
Agriculture Lending – Trust your agriculture needs to a community-based bank that understands the agricultural business and is always here for you. We offer a wide range of agriculture lending with terms customized to your unique situation.
Professional Service Division – We understand the financial needs of professional businesses, such as pharmacies, dental practices, veterinarian practices, and many more. When it comes to providing financial resources, your practice is our priority.
Mortgage Loan Division – At First Financial Bank, we offer a wide range of lending options, designed to turn your home-owning dreams into a reality. Take advantage of competitive rates and custom tailored terms—provided by a friendly, helpful staff who cares about your needs.
Our History
First Financial Bank has deep roots in the community of El Dorado, Arkansas. It first opened in 1934 and currently serves our community with six retail banking locations along with five ATM locations in our El Dorado community. In the Mississippi Region, we have two retail locations and three ATM locations.
Additionally, we serve both Arkansas (El Dorado, Little Rock, Fort Smith, and Jonesboro) and Mississippi (Carthage and Senatobia) with First Financial Mortgage locations. Our agricultural lending division includes offices in Arkansas (El Dorado, Mena, Morrilton and Fayetteville); Alabama (Enterprise and Fort Payne); Mississippi (Carthage); Texas (Nacogdoches); Georgia (Gainesville); North Carolina (Goldsboro and Monroe); and Delaware (Laurel). Our Farm and Ranch division includes offices in Louisville, KY and Wilmington, NC.