POLA - An Unbelievable Experience
Date: 12/23/2019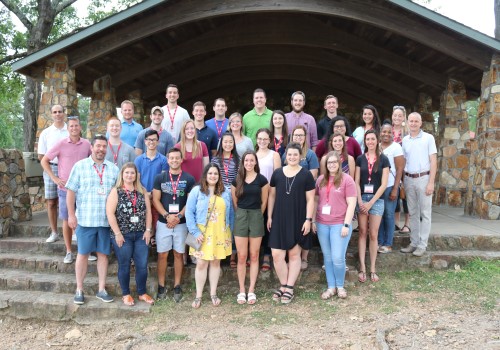 I went into Pharmacy Ownership and Leadership Academy (POLA) very blind and unaware of what I had gotten myself into. Adding conferences to my CV and making connections were my main concerns. I'd been interested in owning a pharmacy for about 5 years and was looking forward to learning a little bit more about the feasibility and logistics of pharmacy ownership. I was in no way prepared for the experiences and relationships POLA would bring me.
I received an email about POLA from one of my classmates and decided it was a good fit for me. I was anxious to learn about pharmacy ownership and how I could make an impact as a leader. The conference started with several sessions on leadership, self-awareness, and personal/professional development and we also had a session on Emotional Intelligence, Strength Finders, and BOSI DNA. My personal favorite was with Purushottam Thapa on "Are We Human Beings or Human Doings?" where we learned about mindfulness and how it can be practiced it in our daily lives. The second day of POLA was my personal favorite – pharmacy financials, marketing, and writing the business plan were the focuses of this day and I learned so much. The rest of the week was filled with motivating speakers, connecting with independent pharmacy owners, team building, and many opportunities to build relationships with leaders of different backgrounds within the pharmacy world.
I gained more from this conference than I could properly put into words – it instilled in me the confidence I needed to continue pursuing pharmacy ownership and exposed me to new ideas that have given me a new purpose. This conference provided me with an insane amount of information, lifetime friendships, and connections that will most definitely impact my future. I followed up the POLA conference by joining National Community Pharmacist Association (NCPA) and attending their conference in San Diego where I was able to reconnect with POLA attendees and build more relationships in the community pharmacy niche.
If there is anyone who is interested in pharmacy ownership and is on the fence about attending POLA I promise it will not disappoint!
-Stephanie Dean
To learn more about POLA, visit https://pharmcollege.uams.edu/current-students/student-activities/pharmacy-ownership-and-leadership-academy/
Stephanie Dean is a third-year pharmacy student at the University of Kentucky. She is originally from Northern Kentucky and attended Northern Kentucky University where she earned her B.S. in Biology with a Social Work focus before starting pharmacy school in Lexington. Following pharmacy school, she is planning to own a community pharmacy in her hometown that will offer services directed at serving underserved populations within the community. In her free-time, Stephanie enjoys watching Disney+, playing with her kitten, Theo, and working on interior design projects around her house.