A Small-Town Vet with a Big Dream
Date: 01/13/2020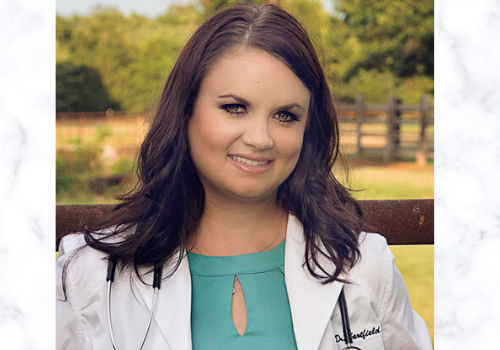 Stepping out on your own is scary, challenging and every bit of an exciting adventure. Who better to stand by and support you than a bank willing to take a chance on a small-town girl with big dreams?
Let me tell you my story.
My name is Dr. Rebekah Hartfield, a 2016 graduate from Oklahoma State University School of Veterinary Medicine. It was a long journey getting to this point. It was incredibly intense, but with perseverance, dedication and a lot of studying, I made it. I turned one dream into a reality. I was finally a veterinarian.
My journey becoming a vet was challenging and is not for everyone, but I LOVE what I do and LOVE spreading that passion to others. Alongside being a full-time veterinarian, I am also a children's book author. My books expose children to the wonderful world of veterinary medicine. They learn how to recognize when their animal is sick or hurt. The characters work alongside Dr. H in the books to diagnose and come up with a treatment plan. Sharing my passion for veterinary medicine with children has been an amazing adventure and a dream I will continue to pursue.
My first position out of veterinary school was at a mixed animal veterinary clinic in Cushing, Oklahoma. I would not trade that experience for anything. I was tested daily with challenging cases, a heavy work-load, and long hours. This experience pushed me to become the veterinarian that I am today. While working full time, I also promoted my books by visiting schools and reading to kids of all ages.
Three years out of veterinary school, I decided it was time to venture out on my own. I wanted to expand my Doctor Hartfield brand with my books and run my own practice.
When I first began thinking about having my own practice, I squashed the idea quickly at first. Why would I want to leave my current position? I was comfortable, I loved my clients, and I loved my community. But, when it came down to it, I wanted something more for myself.
A mixed animal practice became available a few hours away from my current location. My husband and I decided we wanted to take the plunge and become practice owners.
Okay, now what?
This was the truly scary part. What are my next steps? Who do I talk to? How do I get a loan? Will they even give me a loan?
I called a friend of mine, who had recently purchased a practice in Arkansas, looking for some much needed advice. He gave me a number for a veterinarian that worked for First Financial Bank. I cannot even describe how wonderful of an experience I had throughout the entire process. They walked me through every twist and turn. Not only did they help me get a loan to purchase my practice, they also assisted in all the other tedious steps. A process that can be very stressful and full of anxiety became a little less so with the help of such a great team.
I've been open now for ten months and could not be happier! Owning my own practice has allowed me to do more with my children's books and grow even closer to my community. None of this could have been accomplished without the help of First Financial Bank.
If you are ever in the Oklahoma area, come visit me at Holdenville Veterinary Clinic in Holdenville, Oklahoma. You can check out my children's books online at www.doctorhartfield.com.