A Look at Agriculture from the Other Side of the World
Date: 04/17/2020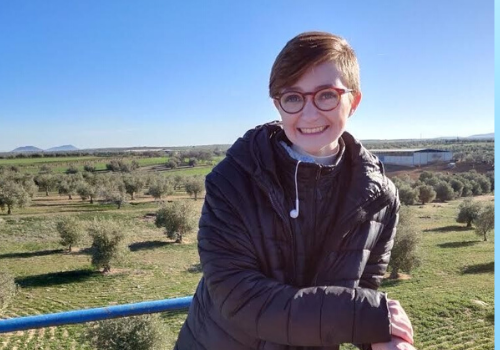 They say that home is where your heart is; however, I think home should be where the best food is. When I was little, I never really considered the importance of my food or where it came from until I joined the FFA. In this agriculture education based organization, I found a passion for advocating for the industry that is essential to the sustainability of our ever-growing world: agriculture.
Since joining, I have had numerous opportunities to travel. In June of 2019, I was elected the Mississippi FFA State President. Because of my leadership role, I was given the opportunity to apply to a program that would send me across the world to study agriculture on an international level. I applied and waited eagerly for a response. Finally I received confirmation that I was one of seventy-five students from across the country selected for the trip of a lifetime. I had a ticket to Spain and Portugal with my name written on it.
I immediately began preparing and packing, but nothing could prepare me for the experience I was about to have. I travelled to New York on New Year's Day to complete a three-day seminar on cultural sensitivity. The seminar taught us the "dos" and "don'ts" of travelling overseas. After months of waiting and preparing, I was finally able to board a plane that would take me somewhere on a completely different continent.
This plane took me over 3,600 miles away, dropped me off, and flew back home. As I followed signs written in a foreign language to "reclamo de equipaje" or the baggage claim, I thought to myself, "There is no going back now." As the day grew longer, my nerves started to settle, and I began to embrace the fact that I was out of my comfort zone and ready to learn.
Our first agriculture visit was with the United States agriculture ambassador for Spain and Portugal, Jennifer Clever. She presented a program about agriculture in these two countries. She emphasized the effects of society and government on agricultural production. These effects were easy to see as we travelled to various production sites across Spain and Portugal.
On what seemed like the coldest day in Spain's history, we toured a beef cattle ranch. Unlike ranches here, the aroma of cattle travelled through the air for miles. The pungency was due to the fact that their beef cattle were not castrated. There was no lack of testosterone, pheromones, or musk in the air. This practice also made the flavor of the beef much stronger. The reason most farmers do not castrate their bulls is because of a social push in Europe for "low stress" and "100% natural" farming.
It was apparent from the get-go that Spanish and Portuguese farming practices were a bit different than those of the United States. This realization was expanded as we continued to tour agricultural sites. We visited "John Deere America" which is a training center for Spanish and Portuguese engineers seeking to expand their skillset. The manager explained to us that many farmers use small scale machines as opposed to the larger tractors that we use in the United States. Spanish and Portuguese farms are primarily family owned and the goods are not sold on a large scale.
Europe's population is much smaller than the U.S.'s. It makes sense that their agriculture is based on quality rather than efficiency. It is easier to feed a smaller population, allowing Spanish and Portuguese farmers to explore different ways of farming that accommodate what society believes is right. European agriculturists find innovative ways of farming because they have less people to feed.
I learned a lot about international trade on my trip, but the most prominent idea that I took from it had nothing to do with politics or current affairs. The thing that I learned from my trip across the globe is that the light shines through the air better when you are happy. Although European agriculture practices seem strange, each and every farmer that I met had a genuine love and passion for people. These farmers work to put a smile on consumer's faces. They put extra effort into their practices to show that they care about the people of their community and the goods they produce.
I am a proud supporter of farmers in the United States. They are hardworking people that will do whatever it takes to efficiently feed our large population. I believe that in today's society, we can learn a very important lesson from European farmers: take care of your people. We often get distracted by the fast-paced world that we live in, especially in the industry of agriculture. It's a big deal to feed so many people. However, it is also a big deal to show that you care about the land and animals and making people happy. No matter how efficient your agricultural production is, the most important factor of farming has been and will always be providing for the needs of others. My trip across the world further instilled this belief in me, and I hope that I can continue to influence people and advocate for agriculture using the experiences that I gained throughout my travels.
Katie Barnes is a senior at Newton County High School. She is currently serving as the 2019-2020 Mississippi FFA State President. Through her extracurricular activities, she has gained many experiences that are atypical of other students her age. She hopes to use her experiences to help her become an agriculture lawyer in the future.