Looking Upwards
Date: 06/05/2020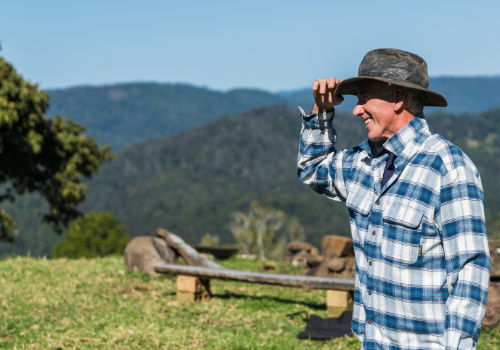 When I was young, I was heavily involved in 4-H with the Dairy Quiz Bowl Team. I spent a lot of time at a local dairy farmer's house learning all about dairy cows - thank you Brenda Thomas. I was convinced this was the best possible life for me. The family was so calm and accepting, and the work looked so fulfilling. I went home and called another dairy farmer from church and quizzed him on how much cows cost and for how much his farm might sell. When I got done with my notes, I discovered that the cost to own my own dairy was so high that I could never afford to farm full time. Since then, I continued to stay active in agriculture, but not in a typical sense. I'm behind the scenes, dealing with the numbers and stories that make up farms and ranches across the nation.
Since 2003, all the way to today's post COVID markets, I've watched farmers keep pressing on through corn and cattle prices that at times were hard to comprehend. While I'm not farming full time myself, it seems like I've rode with a lot of farmers on the highs and lows while helping prepare cash flow projections, looking at changes in net worth from year to year, and helping restructure operations. I've sat at kitchen tables, walked through barns, and rode in trucks all over the United States. The stories across the US are the same. Farmers and ranchers are some of the most positive people I know, combined with the desire and need to continually change their operations to remain profitable.
Last year, I read an article by Dr. David Kohl that was published by Farmer Mac's "Dave's GPS." Dr. Kohl goes over some tools to help borrowers alleviate some financial stress. Dr. Kohl was a third party troubleshooter between borrowers, lenders, and agribusiness firms in the 1980's and I listen to him whenever I get a chance. He offers a wealth of information. Dr. Kohl uses a Troubleshooting Matrix for Farmers and Ranchers is considered "A tool for the times" by Dr. Kohl, and I have a copy that I continually refer back to on my desk. This information is a great way to start discussions with your lender on farm visits…check it out here:
https://www.farmermac.com/wp-content/uploads/Daves-GPS-A-Tool-for-the-Times.pdf
Laura Dixon is the Assistant Vice President of First Financial Bank's Farm and Ranch Division. (www.ffb1.com) Contact her by phone at 888-398-4119 or by email at [email protected]. First Financial Bank is an Equal Housing Lender and member Federal Deposit Insurance Corporation.