Debit Card
Keep instant access to your account balance only a swipe away with the convenience of a Visa® debit card. The power of Visa allows you to make anytime purchases online or in-store, virtually anywhere around the globe.
Your debit card comes free with any First Financial Bank deposit account and free of any additional charges or interest owed. Easily use the very same card to withdraw funds from ATMs. Have versatility and functionality all in one with a Visa debit card.
CardValet
CardValet allows you to turn your debit card "on" or "off" anytime. When they're "off"…no one can use your cards. Turn them "on" when you're ready to use them!
The Best Way to Pay on the Web
First Financial Bank's Verified by Visa is the easy, new way to enjoy added security for all of your online Visa card purchases. First Financial Bank and Visa are pleased to offer you this great service at no additional charge.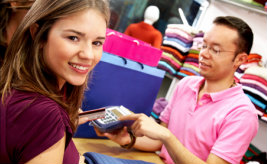 Summary

Free with any First Financial Bank deposit account
No annual fee, monthly charges, or interest owed
Convenient access to your account balance
Make purchases anytime, virtually anywhere
Withdraw funds or make account transfers from ATMs
Safer than carrying cash
More universally accepted than checks
Eliminate paper waste and the cost of purchasing checks
Easily replaced if lost or stolen










CardValet

Helps safeguard your cards from fraud
Lets you define areas where your card can be used
Limit purchase by the type of merchant
Set limits on the dollar amount
Instantly change your settings, giving you complete control over your debit card.

How-To Download CardValet in 5 Easy Steps:

1. Download CardValet App at the Apple App Store or Google Play Store.

2. To use CardValet, the user must first register at least one card. Select "New User" to start the registration process.

3. The new CardValet registration process will be as follows:

Cardholder record contains the last 4 of SSN – The cardholder will be prompted to enter last 4 of SSN to register.
Cardholder record does not contain last 4 of SSN, but contains an email address – An email containing a one-time passcode will be sent to the cardholder.
Cardholder record does not contain email address or last 4 of SSN – The user is prompted to enter the amount from a PIN-based transaction occurring within the previous 72-hour time frame to register.

4. Accept Terms and read Privacy Policy.

5. Create User Profile and establish your password.