Mobile Banking
You have the freedom to bank anywhere, anytime. Whether you prefer to use our personalized app, text banking, or your phone's mobile browser – banking with us is convenient and safe.
You can also choose to download our mobile app for iPhone at the App Store and for Android at Google Play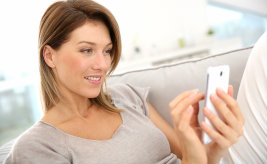 Summary

See the chart below for all the functionality available on Desktop Browser, Text Banking, and our App

Mobile Banking Options

| Service | Text | Browser | App |
| --- | --- | --- | --- |
| View Account Balance | | | |
| View Transaction History | | | |
| Transfer Funds | | | |
| Pay Bills | | | |
| Export Data | | | |
| Set Alerts | | | |
| Order Checks | | | |
| Stop Pay Requests | | | |
| Account to Account Transfer (A2A) | | | |
| PopMoney/Instant PopMoney | | | |
| Find Branch/ATM Locations | | | |
| Mobile Deposit | | | |
| Check Images | | | |
| Instant Balance | | | |
| Multiple User Sign-on Option | | | |

Mobile Banking

Mobile Banking is the fast, easy way to access your account and to make your busy life easier. Use your mobile device to view your accounts, transfer funds, pay bills and even deposit checks. All from the convenience of your device – any time, anywhere.




Safe, secure, and free service for anyone enrolled in online banking
Easily manage your finances on-the-go via text message service, the web, or our convenient app
Text message service:*
View account balances
View transaction history
Web and App service
View account balances
View transaction history
Transfer funds between accounts
Pay bills
Locate ATMs and your nearest branch on your browser or app




Phone apps supported on iPhone and Android phones.

Once enrolled in Online Banking download the app for iPhone at the App Store or Google Play for the Android.




If you do not have an Android or iPhone device you can still take advantage of the Mobile Browser and Text Banking by going into the Mobile tab once you are logged into Online Banking.




*Your cell phone provider may charge additional fees for web access or text messages.






Mobile Deposit

Safely deposit your checks as soon as you receive them. No more waiting in lines at the bank or having to leave home. It's secure and easy by using our "Mobile Deposit" feature through our "Mobile Money" app.

Endorse the back of your check and write "Mobile Deposit" under your signature
Log into our branded Mobile Money app and click on "Deposits"
Choose the account to receive your deposit.
Take photos of the front and back of your check
Verify your check information and then "submit".
Tap. Snap. Deposit. It's that easy!

Quick Facts about Mobile Deposit





Must be an existing customer for a minimum of 30 days and have an account in good standing.
Commercial accounts are not eligible for Mobile Deposit.
Daily mobile deposit limit is $3,000.
There is no limit on the number of deposits in a day, provided they do not exceed the daily mobile deposit limit.
Our general policy is to make your funds available to you the next business day. Please note that depending on the type of deposit, funds may be delayed up to two business days.
The daily cutoff time is 5:00pm CST each business day.





Text Banking

No Internet access on your phone? Our text messaging service* is for you.

View account balances
View transaction history

How to Sign Up for Text Message Service:

1. Login to online banking using a web browser

2. Click mobile tab on the right

3. Select Change Mobile Banking Service in drop down box

4. Click Go

5. Check Text Messaging Box

6. A message will be sent from 39872 to confirm text banking activated

*Your cell phone provider may charge additional fees for web or text messages.