Surcharge-free ATM Network
Whether you're in South Arkansas or North Arizona, your ATM access is not limited. First Financial Bank has partnered with MoneyPass® ATM network to offer you convenient access to thousands of surcharge-free ATMs, nationwide.
Easily travel throughout the U.S. without taking ATM fees along for the ride. And finding a nearby ATM is easy too: simply go online or download a convenient app and search by address or zip code for the closest ATM location.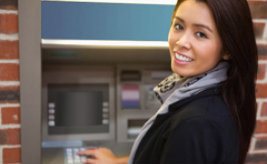 Summary

Access to thousands of surcharge-free ATMs throughout the nation
Travel nationwide without racking up ATM fees along the way
Easy ways to find a surcharge-free ATM near you:
Simply search online by address or zip code
Or download an iPhone or Android app for the location nearest you
Enjoy surcharge-free access at any location with a MoneyPass logo