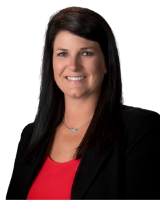 Andrea Taegtmeyer
VP Commerical Lending
528 Merriman Ave. East
Wynne, AR 72396
870-238-6177
Email Me
NMLS ID: 2039921
In her role as a VP of Commercial Lending, Andrea Taegtmeyer enjoys getting to know people from all walks of life. "I have so many different customers and they are all unique in their own way. I enjoy getting to know them and learning more about their lives", she stated. "One of my frequent customers told me that I was one of the most important people in their life. That lets me know that I am taking care of my customers".
Andrea and the team at First Financial Bank work hard to meet the needs of their customers and she credits a good team environment for helping things go smoothly. "Everyone is hard-working and has an important role in the process", she said. Many of her customers are involved in agriculture, an industry she has considerable knowledge of, having worked for USDA's Farm Service Agency in a lending role for fifteen years.
When she's not helping customers, Andrea can be found helping in her community. She's a member of the local Rotary Club and volunteers frequently with them. Individually, she does a "Bus Stop" snack program on Friday afternoons, handing out snacks to kids in a low-income neighborhood as they get off the bus. She enjoys spending time with her family, deer hunting, fishing, and watching her kids play sports. When asked what three words people would use to describe her, Andrea said "dedicated, efficient, and knowledgeable".