View all posts
Shelby Mitchell Assumes New Role at First Financial Bank
Date: 02/01/2021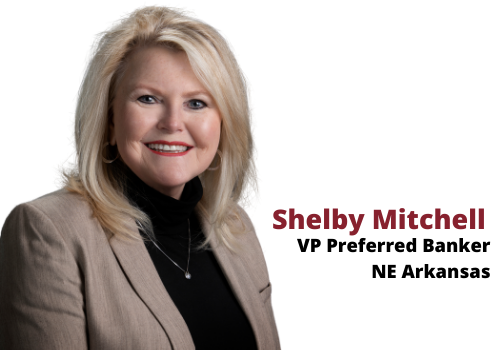 (Wynne, AR) - Shelby Mitchell has recently assumed a new role at First Financial Bank as Vice-President and Preferred Banker for the Northeast Arkansas locations. Previously Branch Manager of Operations at First Financial Bank in Northeast Arkansas, she helped transition FNB-Wynne customers during and after conversion with First Financial Bank.
Mitchell has been a banker in Northeast Arkansas for over 40 years, beginning as a teller at First National Bank of Wynne (now First Financial Bank). Although she has served in many areas of banking during her career (Management, Human Resources, Financial Services, BSA Officer, etc.), she enjoys working with customers most. "I enjoy meeting new clients and assisting customers, I have met and made new relationships, even new friends along the way" states Mitchell.
According to Sean Williams, EVP and Chief Retail Officer for FFB, "The newly created position will be focused on identifying and serving the needs of our deposit customers", stated Williams. "She will also be responsible for developing new business by providing a full range of customer services, as she's done for many years."
While focused in Cross County, she'll assist all FFB-Northeast Arkansas markets with these same functions. Shelby will also lead the planning and implementation of community events while being the point of contact for donation and sponsorship requests. Mitchell will report directly to Sean Williams in Wynne.
Mitchell is a lifelong resident of Cross County and has served her community as Past President and Officer/Current Board Member of the Cross County Chamber of Commerce, Past President/Board member of the Wynne Kiwanis Club and past committee member of the Cross County Economic Development Corporation. Her leadership and community involvement helped Cross County earn the Arkansas Community of Excellence designation.
She and her husband, Bubba, have been married for 44 years and have 2 sons: Jeremy who lives in Cordova, TN and Brent who lives in Wheatly, AR. When not at work, Shelby enjoys spending time with her family/friends and 4 grandchildren, especially when they can all gather at the lake. Shelby and Bubba attends Ridgeview Baptist Church, Wynne, AR.