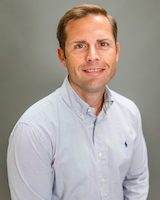 Zac Tarlton
Ag Lending Officer, SVP
1507 Skyway Dr.
Monroe, NC 28110
704-289-9877
800-465-0454
Email Me
A poultry farm owner himself, Zac's clients trust his hands-on expertise when it comes to the complexities of agricultural lending. Proud to be a part of an industry designed to feed the world, Zac's passion is fueled by helping local farmers succeed.
After a decade in poultry operations, Zac joined FFB in 2011, understanding what it takes for his customers to be successful in this industry. Staying by their side throughout the entire loan process, he meets farmers on their properties where they are most comfortable.
Outside of work, Zac, an avid sportsman, enjoys hunting and fishing. He has been married to his wife Jennifer for 14 years and they have a ten-year-old son, Mason.