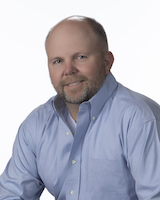 Kyle Schlenker
VP Commercial Lending
First Financial Bank
3251 Hwy 42 East
Cherry Valley, AR 72324
Phone: 870-588-3332
Email Me
Customers in our Cherry Valley, AR community are fortunate to have Kyle Schlenker as their local commercial and row crop lender. Not only does Kyle have years of banking experience, but being involved in his family's 1600 acre farming operation gives him valuable first-hand knowledge of what farmers need to be successful.
A seasoned lender and leader, Kyle was recognized as the 2019 Corteva Agriscience Young Leader for the state of Arkansas and the 2019 Asgrow National Soybean Yield winner. Active in the Arkansas Bankers Association (ABA) for many years, he served as a past section director of the ABA's Emerging Leaders group and as a chairman of one of the four regional sections of the ABA.
Kyle enjoys meeting with customers and getting to know more about them, their business, and their financial goals. "Anytime someone is in a financial 'pinch', it's a great feeling when we can help them get out of it", he stated. "It's great to know you were able to help someone be successful and overcome challenges, while also helping them achieve their financial goals", he added.
When asked what three words people would use to describe him, Kyle said "hardworking, loyal, and funny". Kyle's hobbies include golf and hunting, but admits he and his wife, Stacie, spend most of their time raising three busy teenagers. Their oldest son plays college golf, their middle son plays tennis and their daughter is a cheerleader and plays softball and golf.