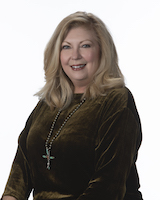 Betty Kate Thompson
VP Commercial Lending
First Financial Bank
124 Edmonds Ave
McCrory, AR 72101
Phone: 870-731-2521
Email Me
NMLS ID: 465988
Since 1989, Betty Kate Thompson has been serving bank customers in Woodruff County, Arkansas although not all of them still reside there. "I have long-standing customer relationships with folks from all over the United States who still bank here", she relates. "From the Tennessee woman who delivered newspapers during my childhood to a Georgetown University professor with Woodruff County roots – these relationships are so special."
"I'm very detail oriented and I think that helps me appreciate what's unique about each of my customers. I'm never too busy to stop what I'm doing to visit with them. One of my favorite things is going out for crop inspections with the farmers. Having that one-on-one time bouncing along in a pickup truck with them is priceless!" she emphasized.
Since becoming part of the FFB family, Thompson has been impressed with the employees and management team. "Whether I pick up the phone to talk to Kathy in Louisville, KY, Gayden in Carthage, MS, Chris in Little Rock, AR, or our CEO in El Dorado, AR – I still feel the warmth and friendliness that I've known growing up in McCrory", she stated.
She currently serves as the Vice-President of Commercial Lending in McCrory, AR and is a life-long resident of McCrory. Previous jobs with attorneys, judges, and state politicians help her communicate comfortably in any professional situation. She also served as President of the McCrory Area Chamber of Commerce and McCrory Industrial Development Corporation, and is on the board of the Woodruff County Health Center and the advisory committee for the Woodruff County Economic Development Council.
Betty Kate enjoys entertaining family and friends and "stomping around the duck woods" with her husband and their golden retriever, Scarlett. When not at work, she loves to read, play piano, needlepoint, and travel. She and her husband enjoy spending time with family, especially five children ages 2 to 10 that they are blessed to call grandchildren. When asked for three words people would use to describe her, she said "caring, positive, and loyal".