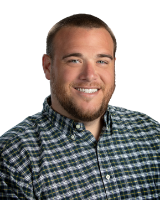 Dustin Hudson
AVP Commercial Lending
First Financial Bank
528 Merriman Ave E
Wynne, AR 72396
Phone: 870-238-6170
Email Me
Dustin Hudson enjoys his role as Assistant Vice-President of Commercial Lending in Wynne, AR. With prior experience at the Natural Resource Conservations Services and Pioneer Seed – he definitely understands the agricultural needs of his community. However, he's also just as knowledgeable about other types of commercial lending needs as well.
As someone who always enjoys a challenge, Dustin loves learning new things about his customers and their businesses – and how we can help them make their business better. He says the team he works with in Wynne are "top notch, close-knit, great people" to work with and they all work well together to do what's best for the customer.
When not at work, Dustin enjoys spending time with his wife, Chelsea, who teaches science at Wynne Junior High School and their son, Carter, who just started kindergarten. A lover of all things outdoors, he also enjoys hunting and fishing with his Dad and his friends. When asked what three words others would use to describe him best, Dustin said: "honest, hardworking, and caring".