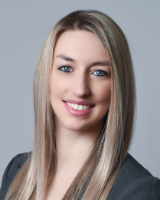 Ashlee Moore
Pet Care Loan Officer
724-681-0952
Email Me
With over a decade of experience in growing successful start-ups, Ashlee knows what it takes to build a successful business from the ground up. Her passion for entrepreneurship and seeing the dreams of a business owner come to fruition is the driving force behind her work funding small business ownership.
Through her work as a Sales and Business Development professional, Ashlee has been an integral part of the success and growth of businesses in the health, wellness, and pet care space. She has worked with pet care businesses across the country, is passionate about their results, and knows what it takes to stand out in this very competitive field. Before joining the First Financial team, she worked with various small businesses as the creator of launch and expansion strategies that have achieved exponential growth. She holds a degree in Business Management and Marketing from Penn State, and has leveraged her knowledge and expertise to ensure the goals of small business owners are achieved.
Outside of work, Ashlee is passionate about animal welfare, and volunteers weekly at a local animal shelter. She is a lifelong athlete and martial artist, and loves participating in outdoor activities with her husband, children, and dogs. When there is down time, she enjoys reading and spending quality time with her family.