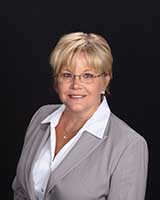 Kathy Daily
Managing Director / Loan Officer
5111 Commerce Crossings Dr.
Suite 112
Louisville, KY 40229
502-267-4119
888-398-4119
Email Me
Being close to the agricultural industry her entire life, farmers trust Kathy Daily to lead them through the intricate aspects of agricultural loans and borrowing. Personal relationships drive her passion and Kathy is thrilled when clients call to tell her how much her dedicated work and knowledge means to them.
Kathy understands that all farms are as unique as the individuals who run them. Meeting those owners and listening to their diverse stories helps her continue to stay connected to what is important in the lending process - enabling customers' success. Each customer's unique agricultural operation, both large and small, informs and allows FFB to better understand overall needs across the 49 states they serve.
Outside of work, Kathy cherishes her family. She especially loves spending time with her grandchildren.