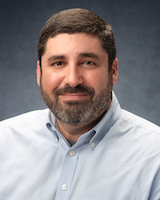 Bryan McDuffie
Ag Lending Officer, SVP
300 E. Peach St.
El Dorado, AR 71730
870-863-7000
800-562-6896
Email Me
Farm owners trust Bryan to lead them through the intricacies of agricultural lending. After nearly six years at Farm Credit, he brought his expertise and passion for helping clients reach their goals to FFB.
In order to experience the source of his customers' dreams, Bryan prefers to meet on the farm to collaborate on finding financial solutions for the farm acquisition or expansion. His commitment to detail has earned him the trust, and in many cases, the close friendship of his clients.
Outside of work, Bryan is an active member of his church. An avid outdoorsman, he enjoys camping in beautiful southern Arkansas and northern Louisiana with his wife Brady and their two daughters, Sadie Rae and Julia Barrett.