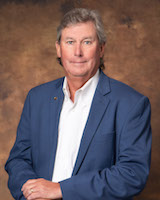 Scott McKennon
Ag Lending Officer, SVP
MENA
600 Hwy 71 South
Mena, AR 71953
479-394-3552
888-245-6268
MORRILTON
609 East Broadway
P.O. Box 849
Morrilton, AR 72110
501-354-0220
866-310-0220
Scott joined the FFB team with 35 years of experience in agricultural lending. He knows the recipe for the financial backing needed for farming success. His loyalty and dedication to the agricultural community have helped him become one of the most trusted lenders in the business.
Raised on a row crop and cattle farm, Scott gained a passion for the land and the importance of hard work. Clients trust his attention to detail during the loan process, and Scott takes pride in the number of farms that have succeeded under his financial guidance. Scott is an Arkansas Appraisal Licensing & Certification Board Member where he is currently serving his third term.
Outside of work, Scott enjoys golf, particularly couple's tournaments with his wife, Karen. They have four children: Colby, Kelsey, Molly, and Amy.