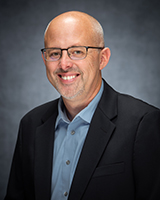 Alan Meadows
Commercial Loan Officer

315 W. Main St.
El Dorado, AR 71730

870-863-7000
Email Me
NMLS ID: 1880856
Alan Meadows has worked in Union County for 17 years and understands both the process of lending and the people he serves. His experience as an insurance agency partner and Risk Manager at Murphy USA enables him to accurately evaluate the risks and rewards of prospective borrower relationships.
In his current role, Alan works daily with existing and prospective borrowers to meet their financing needs, ranging from start-up opportunities to larger loan requests from seasoned business owners who may need additional capital or a new piece of equipment. He loves working at FFB, where all loan decisions are made at the local level and the bank invests in our community to help it thrive, flourish, and grow.
When the pandemic hit, Alan was able to help many businesses get funding through the government's PPP program – both existing customers as well as new customers who couldn't get the funding through their current bank. "The appreciation we felt during the PPP process was rewarding and heartwarming", he stated. "Many customers said we went "above and beyond" during the process and they couldn't say that about other banks in our area. We were very honored and proud to be able to help hundreds of businesses keep their doors open".
Alan and his wife Cynthia have been married for 19 years and are the parents of one daughter and one son. Their kids are involved in sports and they support their traveling teams throughout the region. Active in the local community, Alan has volunteered for the local Boys/Girls clubs for years and will be their new board president in 2022. He also serves as a commissioner on both the El Dorado Advertising and Promotion Commission and the Ouachita River Commission and as Treasurer for Camp Kurios, a Christian summer camp. When asked what three words best describe him, Alan said "integrity, involved, and caring".