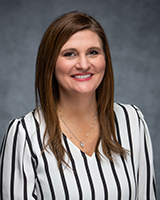 Jade Beer
First Financial Bank
El Dorado, Arkansas
Phone: 870-863-7000
Email Me
In her role as a consumer lender in El Dorado, AR, Jade Beer loves helping people achieve their financial goals. With a background in the service industry, she quickly recognizes and meets her customers' needs as she gets to know them, their family, their lifestyle, and their business.
Jade helps people secure financing for a variety of needs, and understands that every customer and every situation is unique. "Whether I'm helping someone with a vehicle loan, a personal line of credit, or whatever they need – I try to make sure they understand the loan itself, the loan process, and make them feel comfortable", she said. "It's important that customers know they can trust us to guide them towards the right loan for their particular situation."
She recently had a heartwarming encounter with a young man who got a loan to purchase his first vehicle. "He was so excited", she said. "Once approved, he came by to show me his car and was so proud. I had explained to him the value of making payments on time. When his first payment came due, the date was on a Sunday. He called me to make sure I knew he paid it on the Friday before so I wouldn't worry". That level of care and concern for her customers is what makes doing business with Jade an enjoyable experience.
When not at work, she and her husband Jason both enjoy golf, being outdoors, and spending time with family and friends. They have three children: a son, Simon, and twin daughters, Macee and Charlie. When asked what three words people would use to describe her, she said: "dedicated, outgoing, and confident".