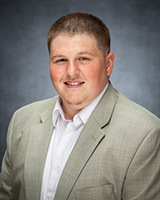 Jeremy Morgan
Consumer Lender
1501 N University Ave., Suite 150
Little Rock, AR 72207
501-716-9135
Email Me
NMLS ID: 1869341
In his work as a consumer lender, Jeremy prides himself on being able to give his customers excellent service in record time. Whether they need a new vehicle, a boat, or just a line of credit – he provides the guidance and professional help that customers appreciate. His background as a coach helped him learn to deal with different types of people and wear many hats, so he naturally can adapt to whatever the person or situation brings to the table.
When asked what he enjoys most about working with clients he said he enjoys earning their trust and helping them get access to needed financing. He loves working for a bank that he says "has been a leader in this community for as long as I can remember" and loves being part of a team that has a strong bond and works together well.
Jeremy is a huge sports fan and follows the New Orleans Saints, Houston Astros, and everything Razorback related. He and his wife, Lacey, have been married for 8 years and have a 6-year old son and 6-month old daughter. He loves to play golf and is an active member of Wyatt Baptist Church where he teaches Sunday School and leads a Sunday evening Connections group. When asked what three words people would use to describe him, Jeremy said "passionate, determined, and organized".