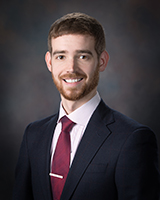 Zac Price
VP, Commercial Lending

First Financial Bank
Harrisburg, Arkansas

Phone: 870-578-2472
Email Me
NMLS ID: 1243235
For almost a decade, the folks in Harrisburg have come to rely on Zac Price for their lending needs. As a VP of Commercial Lending, he gets to help businesses of all sizes reach their goals with financial resources that work for them – not a 'one size fits all' approach. He's always wanted to work in his hometown and help people that he's known all his life and says his job at FFB provides just that.
One of the things he loves about being a lender is when people call him with a new idea for their business, what he calls a "What if…" call. The opportunity to discuss business opportunities, new projects, and learn more about the business – that's very rewarding to him. He enjoys exploring the options and putting together a great loan package to help customers improve or expand their business.
One of Zac's most lasting memories as a banker doesn't involve a customer, but a local student he met while teaching a class during "Teach Children to Save" week. "A few weeks after I was at the school, I received a letter from a student telling me they had never been taught about saving, but because I volunteered, the student was coming in to open a savings account", he recalled. "I've never forgotten that feeling", he says.
He enjoys being involved in his community in other ways, too – as a member of the Rotary Club of Harrisburg and at First Baptist Church. Zac and his wife, Megan, have two children and he enjoys traveling, watching sports, and playing golf. He's also a member of the Emerging Leaders Council for the Arkansas Bankers Association.