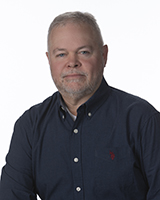 Tim St. Clair
Retail Market President
124 Edmonds Ave.
McCrory, AR 72101

870-731-2521
Email Me
NMLS ID: 465986
Tim St. Clair has over twenty years of experience in banking and agricultural lending and all of it has been in the Woodruff County, AR area. He also grew up on a farm in Northeast Arkansas. His customers know that he understands the local business community and the people who work there better than just about anyone. As Retail Market President in McCrory, Arkansas, Tim oversees day-to-day operations at that location, and is also a lender who specializes in commercial and agricultural loans.
"I make sure that our customers' needs and expectations are being met, regardless of their relationship with FFB. From a lending perspective, I make sure my customers have the financial resources and guidance they need to be successful," he stated. What Tim enjoys most about his work is helping people work through issues, especially when things don't go as planned.
Tim has enjoyed working with a team that truly cares about their customers and he's glad to continue this customer-focused approach with First Financial Bank. "I've been really impressed with the people, and how hard they work together to get the job done", he said.
When asked what three words people would use to describe him, he said "honest, dependable and considerate". Outside of work, Tim likes to spend as much time as possible with his family, especially his grandchildren. He enjoys reading and also teaches a Sunday School class at Valley Baptist Church in Searcy, AR.