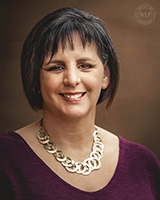 Darbi Scheppmann
VP, Loan Officer
600 Hwy 71 South
Mena, AR 71953
479-394-3552
Email Me
NMLS ID: 1401433
After more than two decades in banking at our Mena, AR location, Darbi Scheppmann is well-versed in the details of lending and provides customers with the best loan product for their needs. As Vice-President and Loan Officer for FFB, she evaluates and authorizes the approval of commercial, consumer and real estate loans. She works closely with the loan operations and loan servicing departments to ensure that we service the loan (and the customer) effectively from beginning to end.
Darbi enjoys working with her FFB family in Mena and describes her co-workers as compassionate, respectful, and understanding. "They are there for you whether it is work related or personal. We are definitely like family here", she concluded. One of her main goals is to be sure every customer has a good understanding of the loan products available to them. "No question is too big or too small", she said. "We want them to leave knowing that they understand the financial products and services we are offering them and how it meets their needs".
She and her husband of 26 years reside in Cove, AR, where they enjoy spending time with family and with each other. When not at work, their favorite pastime is spoiling their precious granddaughter, Katie. They enjoy taking beach vacations and she loves to read in her spare time. When asked what three words others would use to describe her, she said "friendly, dependable, and professional".