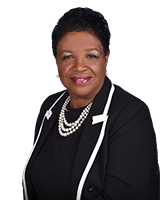 Jo Evelyn Herron
Concierge Banker
700 N Robinson St.
Senatobia, MS 38668
662-562-7290
Email Me
NMLS ID: 1861463
As a Concierge Banker in Senatobia, Mississippi, Jo Evelyn Herron helps customers with all types of loan and deposit needs. She is committed to making the process as easy for customers as possible, her customers LOVE her, and we're pretty fond of her, too. The recipient of many "thank yous" from customers, one of her recent customer notes said "Thank you is just not enough. The world would be a better place with more people like you." If you talk to her just once – you'll agree.
What Jo Evelyn likes most about her FFB team is the 'family-type' atmosphere and their unified focus on doing what's best for their customers. "I love being able to help customers achieve their goals and the relationships we create in the process are truly rewarding", she stated. She's been involved in banking since 1986 and joined FFB in 2011, serving as a Teller, Sr. Customer Service Rep, and Assistant Manager. In her current role, she helps with consumer/commercial/mortgage lending, CDs, IRAs, and checking/savings accounts. If you have banking questions – she has answers!
Outside of work, Jo Evelyn enjoys cooking and travel. She has two sons and one daughter, four grandchildren and two great-grandchildren and loves spending time with her family. A member of East Antioch Baptist Church, she enjoys singing in the choir, helping on the kitchen committee, and leading Bible study. When asked what three words she thinks people would use to describe her, she stated: helpful, loving, and faithful.