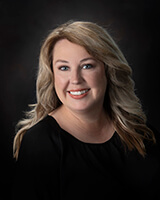 Sarah Wood
AVP, Commercial Lender
528 Merriman Ave. East
Wynne, AR 72396

870-238-2361
Email Me
NMLS ID: 2039919
Apply Now
A lifelong resident of northeast Arkansas, Sarah Wood specializes in consumer and mortgage lending but is also well-versed in commercial and agricultural lending in her community. She is passionate about customer service and helping provide clients with products and services to best serve their families.
Her role at FFB involves working with customers to find the best product for their needs and helping them from start to finish with their loan process - taking necessary steps to make it as smooth as possible. "Being able to help someone buy a new home or business or just help them out in times of need is really satisfying," Wood said. She was part of a team that worked around the clock to help businesses in her community during the PPP loan process. "I had one business owner I visited with on a Friday night at dinner, and they came to see me shortly after that to start the process. They were able to get funding via the PPP program, keep their doors open, and provide jobs for their employees during the pandemic. It felt great knowing I had a small part in helping them and helping our community".
Sarah and her husband, Jim, have three kids who keep them very busy and on the go. When not working, you'll most likely find her at the softball fields, playing and coaching basketball or the pool. She enjoys traveling, hosting gatherings, and is an avid sports fan. (Roll Tide!) When asked what three words people would describe her, Sarah said, "honest, dependable, and funny".