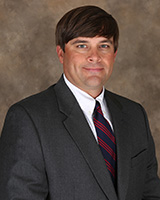 Chris Stewart
VP, Loan Officer
510 Hwy 35 South
Carthage, MS 39051
601-267-6657
Email Me
NMLS ID: 445255
Apply Now
For over two decades, Chris Stewart has helped customers in Leake County, MS meet their financial needs on a daily basis – as a teller, customer service representative, and now a Vice-President and Loan Officer. What he enjoys most about working at FFB is the friendly, family-like atmosphere at FFB in Carthage, MS. "They're not just my co-workers", he said. "They're my best friends".
Chris enjoys meeting with customers to get to know more about them – their business/financial needs, but also to learn more about them and their family, their goals and plans for the future. "I like to be sure we've answered all their questions before they leave. I want them to have the best possible information about whatever financial decision they're faced with", Stewart said.
When asked what three words others would use to describe him, he replied: Hard-working, caring and dependable. When not at work, Chris and his wife stay busy with an 8th grade son and a 5th grade daughter. They enjoy going for family walks each afternoon, cooking out at the lake, and spending quality time together. "My son and I love to fish bass tournaments together. Whether we win or come in last place, it's the time together that's so important", he concluded.