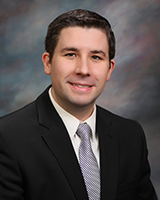 Chance Hall
Consumer Lender
510 Hwy 35 South
Carthage, MS 39051
601-267-6657
Email Me
NMLS ID: 1896392
Chance Hall has been a loan officer at our Carthage ,MS location since 2019, providing expertise in both consumer and commercial loans. With a total of 12 years' banking experience, Chance knows how to help customers get the financing they need. "Dealing with people's money is not something to take lightly. I have learned to communicate well with customers to gain their trust and help guide them toward the best decision for their financial future", he stated.
Hall says he was drawn to the close-knit team at FFB-Carthage. "Being a part of a friendly work environment and the opportunity to help people was an enormous draw for me", Hall stated. "Every person I work with cares about our customers, and works hard. We have a good time together, but we definitely get things done", he concluded.
When not at work, Chase and his wife, Rachel, can be found chasing their young son, Levi. They enjoy travel, hunting, tennis, and cookouts. He and his family are members of Forest Pentecostal Church. When asked what three words people would use to describe him, he stated: Random, reliable and Christian.