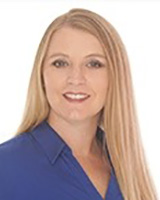 Heather Willborg
Loan Officer
924 Van Ronkle, Suite 2
Conway, AR 72032
501-513-0637
---
510 West Main St, Suite 1
Heber Springs, AR 72543
501-450-0559
---
NMLS ID: 445265
Apply Now
Heather Willborg has spent the last two decades helping her customers navigate the home mortgage process and says working at First Financial Bank has been great for her – and for her customers. "I like the fact that FFB is small enough to provide personal service, but large enough to offer lots of options for our customers", she said. She helps customers decide on the best loan for them, educates them about the loan process, and coordinates with title companies and realtors to be sure they close on time. "Closing on time is what I'm known for", she states, and you can bet that her customers appreciate it.
She enjoys being able to help customers turn their dream of home ownership into reality. "I love the smiles on their faces at the closing table", says Willborg. She strives to keep customers informed throughout the loan process, not just at the beginning. Heather and her team keep their focus on the customer's needs and find that good communication helps everything go more smoothly.
Customers have recently shared their testimonials and agree that Heather and her team deliver on their promises:
"Heather is professional, quick, and great to work with. We would not hesitate to use her on our next mortgage because she does her best for her clients every single time", stated a recent customer. Another added, "She's a fantastic loan officer who's not afraid to dig in and help out. She's always there to answer questions and make sure we understand the process every step of the way".
When not working, she enjoys spending time with family on Greer's Ferry Lake, fishing and boating. They also enjoy horses and working on the farm as a family. When asked what three words most people would use to describe her, she stated: knowledgeable, experienced, and detail-oriented.