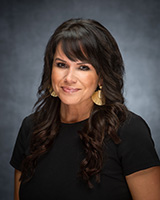 Kelly Shanas
214 North Washington
El Dorado, AR 71730
Phone: (870) 881-5421
Toll-Free (800) 562-6896
Fax: (870) 881-5434
Email Me
NMLS ID: 1447383
Apply Now
As a VP and Mortgage Lender, Kelly is well-versed in helping her customers find the right loan for their home purchase. She has 20 years' experience in banking, starting as a teller and holding positions in accounting and audit before becoming a loan officer with FFB.
One of the things Kelly likes most about working for First Financial Bank is the wide range of products and services they offer under their banking umbrella. She helps walk borrowers through the loan process from start to finish, providing answers and assurance when needed. She and her team are always focused on the customer and making sure they close on time – which customers greatly appreciate!
"Being able to make someone's dream of homeownership come true is very rewarding", she stated. One of her most rewarding moments as a mortgage lender involved a customer who overcame great odds to be able to purchase a home. "The customer cried at the closing table because they were the first person in their family to own their home. They put in a lot of hard work to keep their credit clean, and overcame other obstacles on their path to home ownership", stated Shanas.
When not at work, Kelly and her husband enjoy traveling to North Arkansas, where they enjoy the mountains, creeks, and camping with the kids. Asked how other people would describe her, she said: I have a strong work ethic, and love my family and friends dearly.