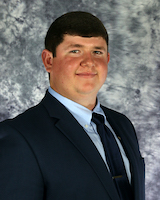 Kyle Kopp
Credit Analyst Trainee
First Financial Bank
5111 Commerce Crossings Dr., STE 112
Louisville, KY 40229
Phone: 502-822-7578 ext 7578
Fax: 502-267-9484
Email Me
Kyle recently graduated from The Hutson School of Agriculture at Murray State University, but he is not new to the agriculture world. While at Murray State, he was able to study abroad and get firsthand experience with agriculture in different countries. He comes from a family farm in Southern Indiana where he has been able to experience the daily operations of their grain, livestock, and poultry farm. With his education and his broad background in agriculture, Kyle can relate to the customer and use his first-hand experiences to best help and grow with the customer.
Kyle continues to be involved in his family's farm, alongside his father and brother. He raises grain, livestock, and poultry in Southern Indiana. Kyle was active in FFA in high school and while in college he was very active across the campus in agriculture clubs and other organizations. With his passion for the agriculture industry, Kyle is excited to help customers of any size be successful financially.
When not at work, Kyle is usually found farming with his family. He enjoys doing anything outdoors, from golf to hunting all around the world. Kyle also loves to spend time with his fiancée and their puppy in his free time.