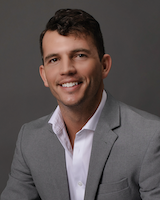 Nathan Pierce
AVP, Loan Officer
201 E. Jackson St.
Harrisburg, AR 72432
870-731-0074
Email Me
NMLS ID: 2295788
A native of Harrisburg, Pierce graduated from the University of Arkansas at Fort Smith with a degree in Operations Management. He has experience as a field appraiser for the Poinsett County Assessor's office, utilities director for Harrisburg Water & Gas, and most recently worked as a Senior Appraisal Specialist. Nathan will report to Zachary Price in Harrisburg. "Nathan's experience in real estate, along with many relationships in Northeast Arkansas make him a valuable addition to our bank family. We are excited to have Nathan on our team", stated Price.
In his role as AVP/Loan Officer, Nathan will help customers meet their financial goals by providing loan solutions that are tailored to their needs. He also shares his leadership and expertise outside the workplace, serving as President of the Harrisburg Rotary Club, Vice-Chair of the Poinsett County Housing Authority, and a member of the Harrisburg Planning and Zoning Committee.
When not at work, Nathan enjoys traveling and camping in pursuit of his goal to visit all 52 Arkansas State Parks. Call or stop by today and talk with him about your financial needs.