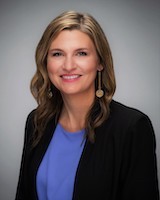 Jade Beer
214 North Washington
El Dorado, AR 71730
Phone: 870-881-5421
Fax: 870-881-5435
Email Me
NMLS# 2149859
Apply Now
Jade Beer has spent the past ten years in community banking, meeting customers' needs from all walks of life. As a Mortgage Loan Officer, she loves helping people purchase a home and seeing their pride in owning their first home. "I am here to provide support and guidance for their home purchase or refinancing, giving them answers and information throughout the entire mortgage process," she said.
Jade enjoys working with the mortgage lending staff in El Dorado and throughout Union County, AR. As a former Consumer Lender, she's comfortable answering questions about the loan process and if she doesn't know the answer, she's quick to find one. She and her team are laser-focused on providing exceptional service to every customer they serve throughout south Arkansas.
Outside of work, Jade enjoys spending time with family and friends, golfing, fishing and anything outdoors. . She and her husband have three kids who keep them busy (one set of 7-year old twins!), and they love to travel as a family. If you asked those who know her best which three words they'd use to describe her, she said that they would say "dedicated, outgoing, and humble".