View all posts
Two MSU Seniors Awarded 2018 First Financial Scholarships
Date: 12/11/2018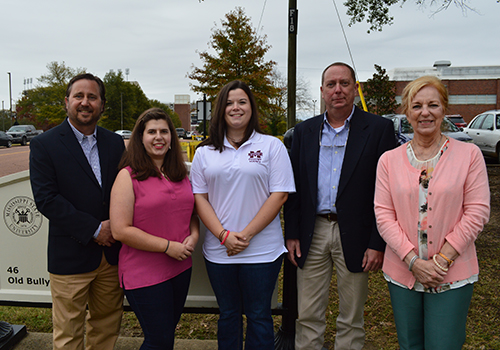 First Financial Bank of Carthage recently awarded two scholarships totaling $1,500 per year to two poultry science seniors at Mississippi State University. A committee of educators chose the recipients and the funding was provided through the Mississippi Poultry Foundation.
The winners of the 2018 scholarships are Ashley Ruzicka of Livermore, CA and Courtney Fancher of Starkville. Brad Ogletree, FFB President, and Michael Barnes, FFB Vice President, made the presentation at Mississippi State University recently. First Financial Bank is one of the state's largest poultry industry lenders.
"First Financial Bank is glad to assist these future leaders in the poultry industry with their education at MSU," Barnes said. "We are proud to be a supporter of the Mississippi Poultry Foundation's efforts to assist poultry science students with their education."
Ruzicka, who won the $1,000 scholarship split over two semesters, has won several other honors at MSU including the James E. Hill Poultry Science Scholarship. Upon graduation, Ruzicka plans to work in the poultry industry to gain some experience and find a specific aspect of the industry that she is passionate about. Before applying to graduate school, she worked for Daybreak Foods as well as Dr. Kelley Wamsley, MSU Poultry Science Professor, while an undergraduate at MSU.
Fancher who won the $500 scholarship split over two semesters, has also been awarded many honors while at MSU, including the Farm Bureau Young Farmers and Ranchers' Scholarship. She has worked as a veterinary technician and research assistant. Upon graduation, she hopes to continue her education with a Masters in Poultry Nutrition or attend veterinary school to become a poultry veterinarian. She has worked as a veterinary assistant.
This is the ninth year that First Financial Bank has made donations for scholarships to the Mississippi Poultry Foundation.