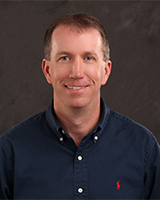 Ward Herndon
Ag Lending Officer, VP
1602 East Starr, Suite 104
Nacogdoches, TX 75961
936-560-1774
800-789-7069
Email Me
Farmers trust Ward's abilities to lead them through the complexities of agricultural financing based on the knowledge he's gained in his 20+ years in the industry. Nothing makes him happier than finding the right loan option to turn his clients' plans into thriving farms.
You can usually find Ward meeting clients on their farms and learning their plans for their poultry operations. They motivate him to provide unparalleled service in helping them achieve their goals.
Ward values his time with his wife Sommer and their two children, Tyler and Hollie. An avid outdoorsman, he also enjoys hunting and fishing. Ward's family are members of the First Baptist Church in Center, Texas.