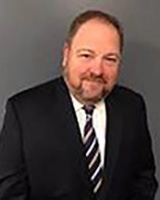 Rod Beckham
President - Mortgage Division
Prospect Building
1501 University Ave., Suite 950
Little Rock, AR 72207
501-227-7087
Email Me
NMLS ID: 445261
Apply Now
Rod Beckham grew up learning the value of hard work by helping his father in the family business. That work ethic would serve him well in any position or industry, but when he decided he wanted to become a mortgage lender, a family friend highly recommended he apply with First Financial Bank and the rest, as they say, is history.
Beckham was influential in helping create the Great River Annual Conference for mortgage bankers from Arkansas, Tennessee, Mississippi, and Missouri and is Past President of the Arkansas Mortgage Bankers Association.
As the President of FFB's Mortgage Division, he's had 25 years of experience helping finance homes for our customers. During that time, he's learned that customers want answers to their questions and someone who can give sound advice throughout the entire lending process, and Rod is able to provide both. He understands that buying a home is the biggest single purchase most people will make in their lifetime, and wants to make it as stress-free and efficient as possible.
In his spare time, Rod loves spending time with his family, cooking on the grill, and watching football. He also enjoys golf and fishing. When asked how others would most likely describe him, he stated: Knowledgeable, Engaged, and Humorous. He works hard to lead the FFB Mortgage Team in always delivering on their motto to always "Close On Time".