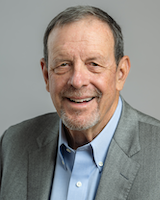 Bob Graul
Business Development
First Financial Bank
Email Me
Prospective independent pharmacy owners have found a kindred spirit in Bob. With decades in the industry, beginning as a staff pharmacist, then growing a profitable chain of retail pharmacies and subsequent leadership roles at McKesson, Bob gained immeasurable knowledge of just what it takes to build a solid business in this industry. Because of his vast experience, he has been called upon to consult on transferring ownership of pharmacy businesses. The result: a seamless transition.
Bob is now applying his subject matter expertise to institutionalize enhancements to the programs and offerings of the Pharmacy Lending Division. Bob's work is focused on developing opportunities for current and future clients while sharing insights with his dedicated teammates about what it takes to succeed as an independent pharmacy owner.
In his spare time, Bob enjoys the outdoors and working with his hands, restoring old tractors, and woodworking.